Connecting the Mic
Insert the SC6 splitter box into your phone's headphone port. You can use an adapter if your phone doesn't have a traditional headphone output. Alternatively you can use a laptop with Google Chrome installed.
Connect the SmartLav+ Microphone to one of the two mic inputs and a pair of earphones or headphones to the headphone output. The left-most port.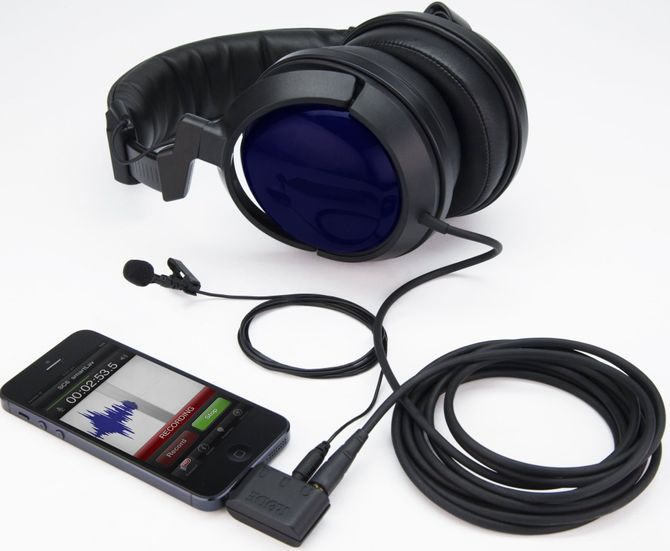 Wearing the Mic
Clip the microphone to your clothing preferably a couple of inches below your neck. It's not ideal to attach it to the collar of a t-shirt or somewhere too close under the neck. A gap between buttons on a shirt is ideal, but also on the side of a cardigan or jacket, or a lower neckline will also work.
Please avoid wearing scarves or anything that'll brush against the microphone. You don't need to worry about threading the wire through your clothing like these guys, you're not on camera.
Location
Next you'll need to find a suitable place to do the recording. Please find a quiet location with lots of soft furnishing around. You can do it on your sofa or sat in the middle of your bed, these places are great for absorbing sound and making a nice recording. Avoid large spaces with hard surfaces, like a kitchen or office.
Connecting to Cleanfeed
You will receive a link directly from us before your recording time. When you are ready click on the link, it will open in any browser on a phone, but if you're on a laptop you must use Google Chrome. iPhone users will need to acknowledge a beta-test warning, please click yes on this. Then allow Cleanfeed to access your microphone. All being well, you'll connect directly to me (Graeme) ready to record.